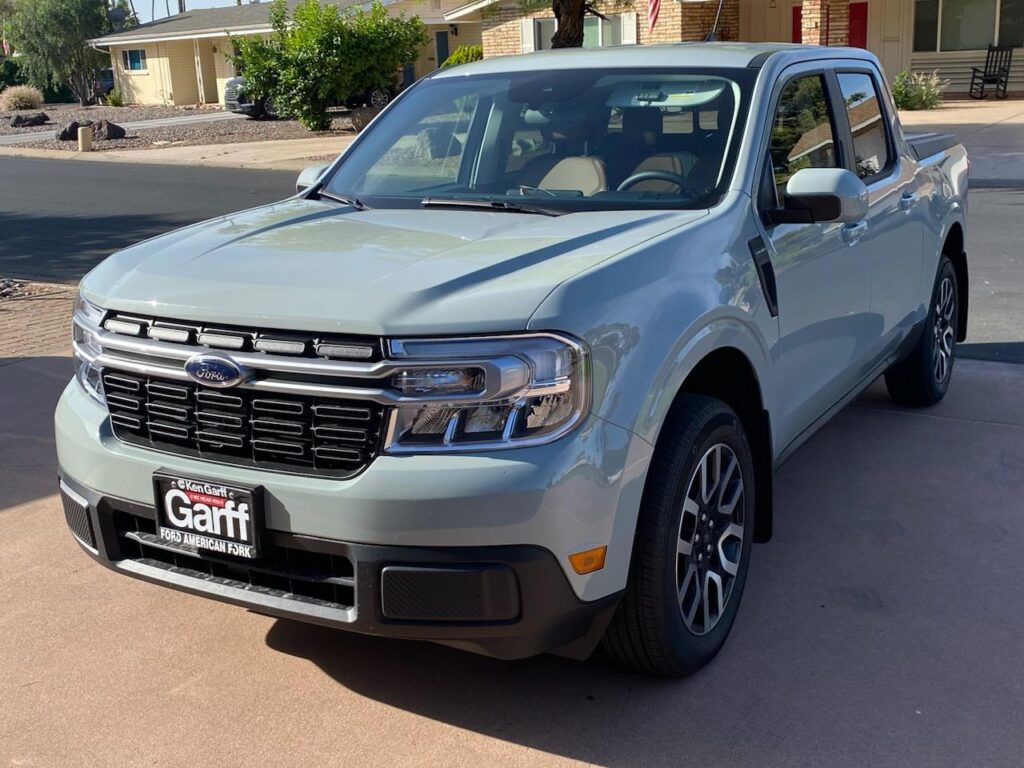 2023 Ford Maverick, For My Clients Mr/Mrs Wally, & Karen Johnson, Mesa, AZ.
This is the second,2nd that's right… About a year and half ago, I located a Maverick in Harrisburg, Pa. From a dealer there, and Wally, purchased it & had it shipped to Mesa, Az. So why, did he buy a 2nd one so close together, well his wife Karen, had an accident in the first one, so Wally wanted me to set up a deal on a second one, maybe a little closer to Arizona, and here we go again to find one at a much better price in Utah, how about that? Again Wally & Karen we're happy customers again... So they sent me a thank-you message, and it reads as follows: Hi Ken, Just wanted to thank you again for all your hard work on finding us the perfect Maverick we requested!! You are so easy to work with and you are Honest and Fair. You Never give up until the goal is reached!!! If we ever need to locate a car or truck again we will definitely be calling you again! THANK YOU! Karen and Wally Johnson. ************************************
My First Car Deal In Spain!
We contacted Ken from overseas as we needed help locating a suitable car for our arrival back in the US. To begin with we had a list of possible suitable cars, the features that we were looking for and the budget. Ken was prompt and extremely courteous with his replies making suggestions that he thought would suit us. He also worked around the time difference between us, which often resulted in him sending early morning replies when having his breakfast or even from the doctors office. When we eventually decided on the make and model that we wanted Ken did his best to help us find it and get us the car when we wanted it, even agreeing to meet us from the airport to take us to the dealership. It was a pleasure working with Ken, especially when he was able to sooth a difficult situation at the dealership when customer service was left wanting. We would certainly recommend Ken to anyone looking for help purchasing a new or used vehicle! Tim & Jill Langhus-Griffin, Now Back Home After 8 Years! Yea!
***********************************
NEW CLIENT, JAN WANTED A 2023 HYUNDAI SANTA FE HYBRID..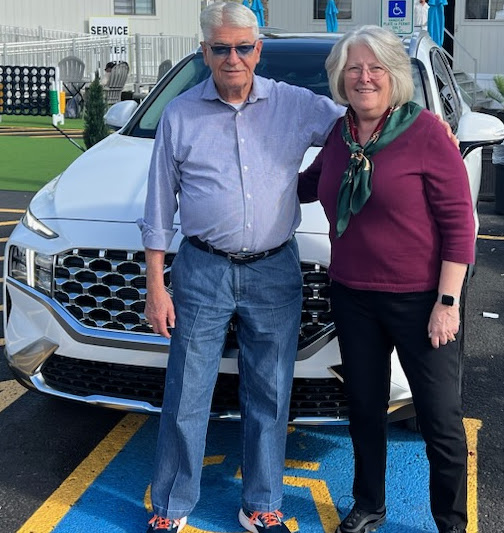 Another New Client Jan, who was referred to me by my Barry whom I have become great friends for years. We enjoy breakfast @Egg & Joe & it's just great… She wanted me to find the best deal on a Hyundai Santa Fe/ Hybrid. I went to work as always, and contacted one of my dealers that I always check with to find Jan the very best deal… Right-A-Way! I checked out her trade-in, which was also another Santa Fe she had for a few years (9), but had miles that was in line. So once I got all the numbers which I presented to her, and she said when can I take delivery? So I contacted the manager, and made the appointment. But I had to move fast to hold the vehicle, before a couple other customers showed interest in the vehicle…Wow! Jan is very Happy
************************************
NEW CLIENT, TAMMY. She was referred to by a friend & previous client.. Tammy Wanted Used Toyota Prius!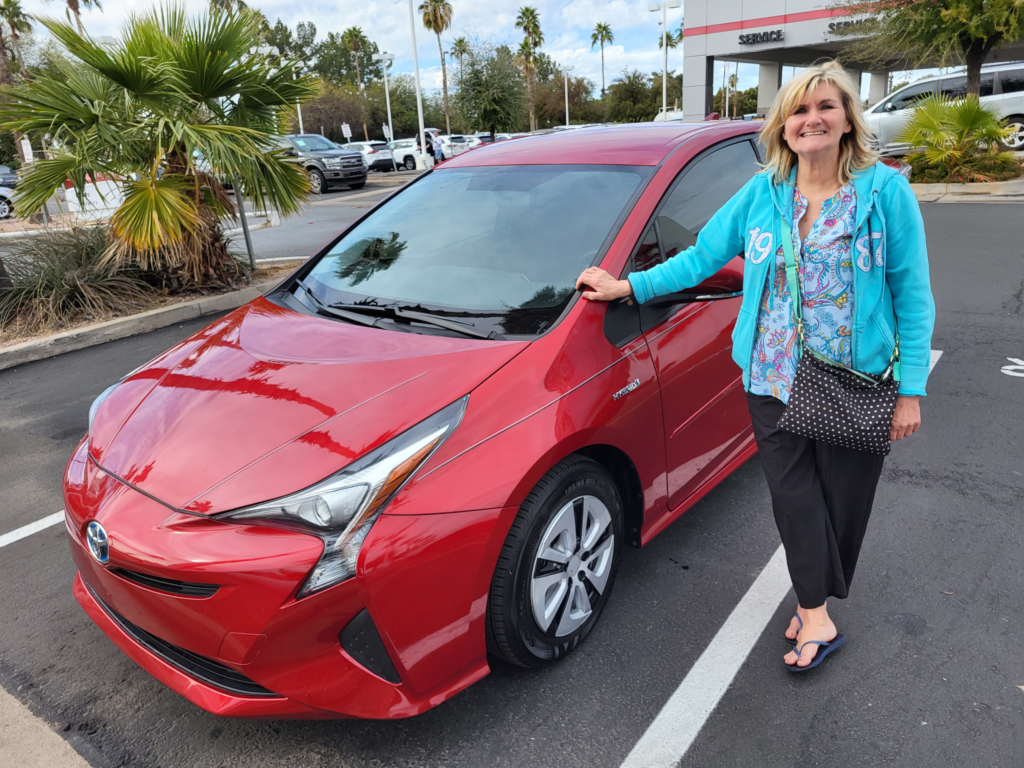 Her is Tammy's recent review on my business-Link! It's on YELP & it reads as follows: Ken is a upstanding man filled with integrity and wanting for the best for is clients. I called Ken & explained my needs to him, and within a week, I had a car. It was an awesome. Thank you Ken. Sincerely, Tammy. By the way, I must give a huge thank-you to my special friends, Craig& Danette, who referred Tammy to me to help her find a car. They have been great friends of mine, and previous clients who have purchase over 6/7 vehicles over the years.. Friends for over 30 years! *****************************
Jeannette Sanchez & Husband Ralph, Reached out to me to find them a new Toyota, Rav4, & of course, it had to be Cherry Red..!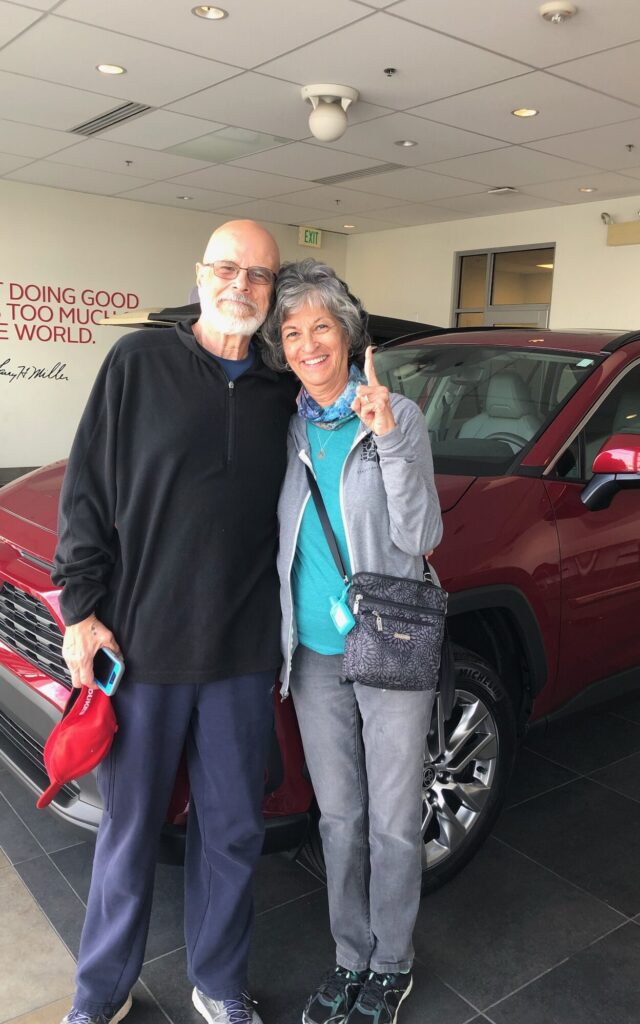 A big shout out to Ken Nichols of KenCars.com I reached out to Mr. Nichols after many frustrating and confusing months dealing with Toyota Dealerships in Chandler, Mesa, and Tempe. From my first initial conversation, I knew I was in good hands. His patience, kindness, and integrity are absolute. True to his word after a few weeks he found exactly what I was looking for and at a great price. I am now a happy owner of a 2022 Toyota RAV4 XLE Premium.😊 So if you are in the market for any type of vehicle, nationwide … Ken Nichols is your man. He can be reached at KenCars.com or Redwagoncars@gmail.com. Ken Nichols Auto Consultant, Broker – CARS/Trucks BY KENCARS & FRIENDS ! Jeannette, I am so sorry I have been busy, and just today [1/28 ] I saw your wonderful message about how I was able to help make your New Toyota Rav4 really Happen. It only happens because of my great network of dealer contacts with who's I have had a relationship for many years, and who I trust with my clients completely. I really appreciate your message and thank you so much. Client referrals always beat any marketing and advertising. It is folks like you that tell the real story, and again I appreciate You & your husband's trust in me and how I get it done time and time again. I am still looking forward to our get-together, which seals the deal that my customers become my friends. It's a great reward in my profession which I treasure. Thanks again, Ken Nichols
Jannette & Her Husband Taking Delivery Of Their New Toyota Rav4, & We Can See It is Red, Yea Her Favorite Color!
************************************
ANOTHER NEW CUSTOMER BY THE NAME OF Alistair Mackey, who reside in Canada Some of the time, & Chandler, Az in Winter.
Good Morning, Alistair, I think I have found you the "Right" vehicle for your requirements… It's a 2012 Dodge Journey SE, with 122k miles, and seems to be in excellent condition, from reading the Carfax report (attached) I have spoken to the person at the dealership which is located in Mesa on Power rd. The selling price is $6995, plus sales tax, license plate, and doc fees. Total cost $8424.59… If you like the vehicle, he will hold it for you till Dec the 1st with a deposit of $1000… Of course, you can pay for it in total… Then it's done… Another option is you wait until you get here, and if you don't take it, you lose the $1000, because they have taken it off of the market and could have sold it to another client… However, if you do take it, the balance due will be $7424.59.Please let me know if you want to tell them to hold it for you… I will provide you the salesman's name, and address for you to over-nite the deposit to.Thanks, Alistair, Regards Ken Nichols /Mr Alistair's Review of myservices. He Called Me A Rock Star…! ************************************
Evonne & Jessie, got my contact information on the website, called " NEXTDOOR " To Find them a new Hyundai Kona… I went to work, Success!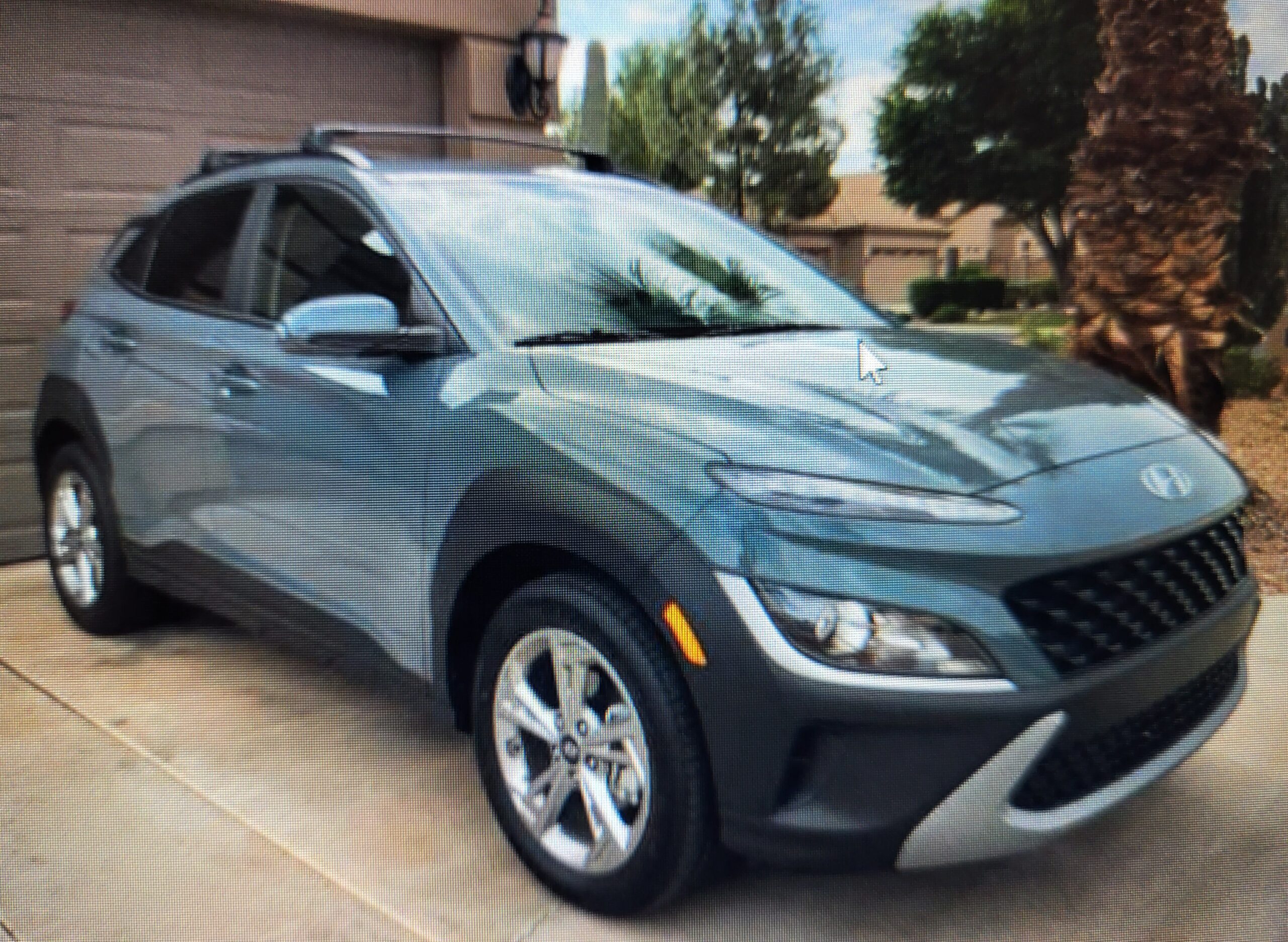 I contacted Ken a few weeks ago after he offered his services to help others find the car they're looking for. I let him know exactly what my husband and I were looking for, and true to his word, he was able to help us find a car in Tempe. We were not looking for a vehicle with all the bells and whistles, but our main concern was getting a quality vehicle at a reasonable price, which we all know, has been difficult lately. It had been many years since we looked for a new car and we were so relieved to have found someone like Ken who did his best to find us what we wanted.
I highly recommend him, especially if you are hesitant to deal with dealerships and know what kind of car you want. He definitely saved us time and the hassle of visiting various dealerships throughout the Valley! So appreciative of you, Ken! Here is Evonne's New/Used Hyundai Kona. She & her husband/ family are very happy! ***************************************************************************************************************************************************

6/1/21 Mrs CINTHIA & Bob Patterson, A repeat customer ask me to help him find a 1 Ton Chevy Crew Cab Duramax Diesel 4×4 High-Country…Yes Success, complete with his trade-in with a dealer in Parker, Arizona..! They drive there & took delivery!
I Helped Them Find Their " Right " Truck…! Very Happy Repeat Customer's…! AGAIN…!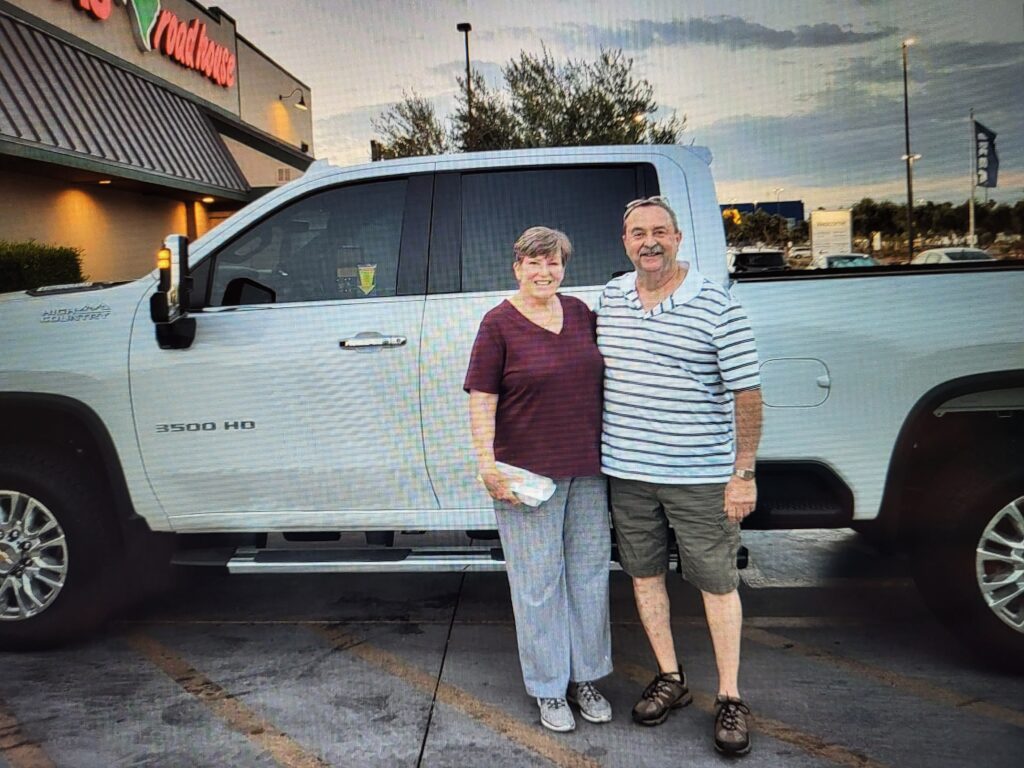 M-440I BMW Hybrid For My Client, Mr Jr of Scottsdale, Az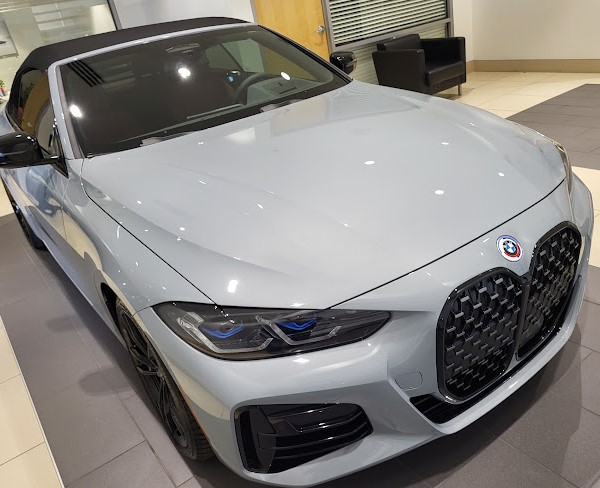 This client, mr Jr, who found me on my " Yelp " business page… He had a older Porsche Hybrid, which he wanted to trade-in on a newer Porsche. But he was in a lease, and was a lot of money up-side down on it… We worked with an old friend that I use to work with when I just got started in the car business, so I know him real well, way back in 1987. But it was not to be as my guy, Kevin's dealership didn't have much inventory, and the dealership was marking up the cars, $25, to as high as $50,000 over MSRP. With him being so up-side down on his vehicle, it just wasn't possible to get his payment on the new one, and also it would require so much cash up front, JR just couldn't make it work… So that is when, he ask me of I had a BMW contact in the valley, and I did have a good guy names Jeff at Chapman BMW in Chandler, Az… So I contacted Jeff, and put him in touch with Jeff, and just like Magic, here is the BMW hybrid, that Jeff made the deal happen for JR. So, again another happy client made possible by myself. I was so glad that it all came together…!